Backpacking the Yucatan Peninsula Itinerary
Mexico is an amazing place, for tourists and backpackers alike. However, as many travelers know, backpacking the Yucatan Peninsula is very different than relaxing in all-inclusive resorts. Here are some of the top destinations in Mexico and my honest opinions on whether they matched the relaxed, traveler vibe that I was searching for, so that you can plan your own Yucatan backpacking route!
---
Overview of Mexico
| | |
| --- | --- |
| Population: | 128.9 million |
| Currency: | Mexican pesos |
| Capital city: | Mexico City |
| Major airports: | Mexico City Airport (MEX), Cancun Airport (CUN), Monterrey Airport (MTY), Guadalajara (GDL) |
| Language: | Spanish and indigenous languages in some regions (like Mayan!) |
What is the Yucatan Peninsula?
The Yucatan is most of the places in Mexico that you've heard of over and over. This means Cancun, Tulum, Playa del Carmen, Cozumel, Isla Mujeres, etc. They're all fairly close to one another so many people a few weeks based solely in the Yucatan and spend time exploring each destination. Although the Yucatan is touristy, it's also super easy to go backpacking in the Yucatan and is pretty darn cheap!
How to explore the Yucatan Peninsula
When you arrive to the Yucatan, you will likely fly into Cancun airport. From Cancun, it is very easy to explore the rest of the peninsula!
The two main ways of getting around are by the ADO bus company (available at every bus station), or by colectivo. Colectivos are local buses that are much smaller and usually cheaper. They don't always have a set schedule, so you'll need to ask locals and your hotel for advice in order to catch one. For some places, you may need to take a bus or colectivo to a port, and then take a ferry. Isla Mujeres, Cozumel, and Holbox are all islands but still fairly easy to reach!
There's also the possibility of renting a car or even a camper van as you explore the region. This provides the maximum flexibility of course but also more expensive.
For more in depth advice on traveling Mexico, check out my Guide to Solo Travel in Mexico.
Is the Yucatan Peninsula expensive?
If you stay in all-inclusive resorts, sure. If you stay in hostels and eat local food? No. Probably the most expensive destination is Tulum, because it has become overhyped in the past few years. However, there are still local restaurants you can find to save money. Additionally, while Tulum may be expensive for Mexico, it's normal price for everywhere else.
The more tourist areas will always have restaurants that cater to tourists and charge American prices. If you leave that area though, you can really find some cheap eateries!
How many days do you need in the Yucatan Peninsula?
That really depends! In the destinations below I've listed an approximate time frame to stay there. Of course, you can shorten or extend based on how long you want to stay or how many destinations you are wanting to see and create your own Yucatan itinerary.
Where should you go while backpacking the Yucatan?
Tulum
3 – 4 days
Although Tulum used to be backpackers' paradise, it is now overrun with tourists who also came to check out the laid-back atmosphere. However, the town is full of amazing restaurants and you can still find some great spots. It definitely has some hipster vibes, great bars and shopping. Tulum is also worth visiting for the world class cenotes (caverns filled with water), beaches, and the famous archeological site! It is still worth it while backpacking the Yucatan, because it's a beautiful destination and full of things to do!
What to do in Tulum
Rent a bicycle or an ATV to visit the best cenotes
Go on a hunt for all the instagrammable spots
Visit the ruins outside the city
How to get to Tulum
Tulum is easily reachable by ADO buses and Colectivos from Playa del Carmen and Cancun. If you're coming from the south you will probably need to stop in Bacalar first before continuing on to Tulum.
Where to stay in Tulum
Mayan Monkey is social and caters more to the party crowd
Mama's House is more for you if you want to hang out and meet fellow backpackers, but isn't the best place for going out
Playa del Carmen
2 – 3 days
Playa is also very tourist, but is good for diving and is a great connection to Cozumel and onwards to Tulum, Akumal, etc.
Playa del Carmen is also a bigger city and has more of a variety of restaurants, shopping, and bars to your liking. It isn't the backpacker atmosphere I typically look for, but you can still make friends and take a break from the more secluded areas. Lots of expats live here so if you stay away from the tourist spots, you'll find a digital nomad culture.
What to do in Playa del Carmen
How to get to Playa del Carmen
You can easily reach Playa del Carmen from several cities by both ADO buses and colectivos. There's even a bus directly to Playa from the Cancun airport! It takes about an hour to an hour and a half.
Where to stay in Playa del Carmen
Selina Playa del Carmen – with an awesome pool and bar, plus amazing location, this hostel is pretty hard to beat!
Che Hostel Playa – great vibes and always a party!
Holbox
2 – 3 days or more
Holbox is a small island to the north, with the best sunsets and really great backpacker vibes. It has a sleepy town, and only dirt roads to get around.
The downside to Holbox is that when it rains, there is no drainage system and you're forced to navigate through the mud. To be honest, I hated the island at first. After a few days though, Holbox became one of my favorite places, simply for the great atmosphere. There are many other people backpacking the Yucatan that come to Holbox, so the whole island has a bit of a chill, young vibe. In Holbox you can take a boat to see the different points of the island, see the bioluminescent plankton, go kite-sailing, or snorkel with whale sharks (June – September).
What to do in Holbox
Snorkel with whale sharks from June to September
Go kitesurfing
Visit a pink lake at Las Coloradas
Kayak through the mangroves on the island
How to get to Holbox
You will have to first get to Chiquila, and then take a ferry to the island of Holbox (should be around 200 pesos round trip and most buses will sell tickets onboard). You can reach Chiquila by Cancun, Playa del Carmen, Mérida, or even sometimes Tulum.
Where to stay in Holbox
Che Hostel Holbox- I stayed here which is a little far from the beach, but has nice, welcoming staff and a pool
Tribu Hostel – I haven't stayed here myself but this is the other really popular hostel on the island
Bacalar
1 – 2 days
If you google Bacalar, you will see a stunning turquoise lake that looks like it came out of the Maldives.
Although Bacalar is small, the lake is gorgeous and the town is very local with many activities on the water. One really popular activity is to go paddle boarding to watch the sunrise. When I was there, a group of travelers and I rented kayaks and spent hours exploring. You can also go on a sailboat ride.
What to do in Bacalar
Do a sunrise tour on a paddle board
Take a sailboat around the lake
Rent a kayak to see Cenote Cocalitos
How to get to Bacalar
There are normally several buses to Bacalar from all different cities in Mexico. If taking colectivo, you may need to stop in Felipe Carrillo Puerto, a small city but with many connections.
Where to stay in Bacalar
The Yak Lake House – A great, clean hostel right on the lake with a nice atmosphere and outside bar. They will also hook you up with any water activity you need
Cozumel
1 – 2 days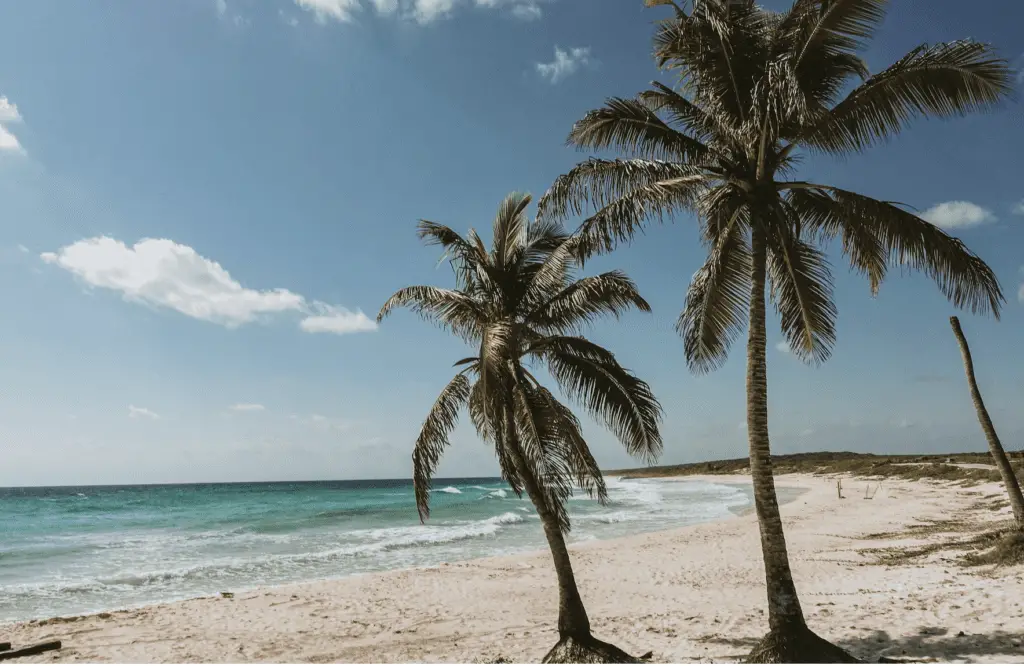 Cozumel is a popular island for cruises and diving. I loved Cozumel because I rented a moped and was able to beach hop the whole day. There isn't all that much to do besides diving, so I wouldn't spend more than a day there. If diving is your thing though, the sites here are world-class.
What to do in Cozumel
Dive, dive, and more dive!
Rent a moped and go beach hopping on the island
How to get to Cozumel
You have to take the ferry from Playa del Carmen in order to get to Cozumel. You can buy ferry tickets here or at the port. For round trips you don't have to choose a specific time to return
Where to stay in Cozumel
Amigos Hostel – for the atmosphere and variety of activities offered at reception
Mahahual
2 – 3 days
They say Mahahual is how Tulum was 15 years ago, before the over-tourism. It's a small town with basically two streets but I absolutely loved it. This town was the embodiment of the backpacker vibes I was looking for.
HOWEVER, I was visiting when there were no cruise ships and the beach was pretty empty. This is a cruise destination so the locals said on cruise days the streets are swarmed with tourists. Once cruises start coming again it may become overrun.
What to do in Mahahual
Shop around the town
Explore the beaches down the coast
How to get to Mahahual
In the spirit of being a non tourist spot, Mahahual is a bit harder to get to. Most buses and colectivos stop in Bacalar first and you'll have to change to Mahahual, although it's sometimes possible to get there from Limones.
Where to stay in Mahahual
Mahasand Hostelito and Suites – A pretty standard hostel but with very friendly staff and other travelers. They have a terrace out back that serves food and is where all the expats come to hang out and meet new people
Valladolid
1 – 2 days (1 day at Chichen Itza)
Valladolid is small and is mostly seen as the connector city to visit Chichen Itza. It has a cute little city centre and an amazing cenote (Called Cenote Zaci) right in the heart of the city, along with a few other things to do.
What to do in Valladolid
Visit Chichen Itza
Explore the different cenotes
Wander around the colonial town
How to get to Valladolid
There are direct buses from Mérida, Playa del Carmen, and Cancun. If you're coming from Holbox it's a bit more complicated. Normally there is an ADO bus once a day from Chiquila. When I went though it was cancelled so I had to take local transport (stopping in 4 different cities) or go all the way to a bigger city to catch a bus to Valladolid.
Where to stay in Valladolid
I absolutely loved my stay at Casa Xtakey. It's a small hostel, but with real homey vibes and amazing breakfast. Tell them I said hi if you stop by!
Isla Mujeres
2 – 3 days
Isla Mujeres is typically a big resort, tourist destination but you can still find some more secluded spots and is still a great destination while backpacking the Yucatan. I stayed outside the city and rented a moped (550 pesos for a day) so I could explore the island on my own. On the south side of the island there are some archaeological ruins. The north side is the tourist side but also has the best beaches and the city center.
What to do in Isla Mujeres
Explore the island by golf cart
Visit the ruins on the far south side of the island
Take a catamaran cruise around the island
How to get to Isla Mujeres
The only way to get to Isla Mujeres is by boat from Cancun. You can either leave from Puerto Juarez (Cancun's downtown) or from the Hotel Zone. Check ferry times and tickets here
Where to stay in Isla Mujeres
Selina Hostel Isla Mujeres – Most people stay in one of these two hostels (or both!) when traveling to Isla Mujeres. Selina is in the city center and as such is easier to access, with the main beach about a 3 minute walk away.
Nomad's Hostel – Nomad's is a really nice hostel but more on the south side of the island. I really liked it though because you got to escape the touristy center and really live the island life.
While there are many other great places to visit while backpacking the Yucatan Peninsula and the rest of Mexico, these destinations are always a great start. What would be on your Yucatan backpacking itinerary?